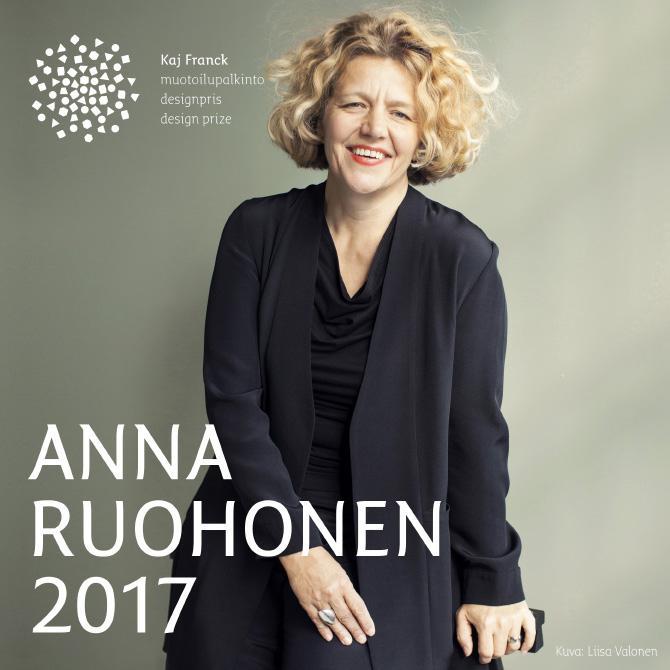 In 2017 Anna Ruohonen was awarded the Kaj Franck Design Prize of 2017.
The prize is one of the most eminent design prizes in Finland and was now awarded by Design Forum Finland for the 26th time.
The prize jury stated that Anna Ruohonen has made a long, successful career in both Finland and France. She is a fine example of a fashion designer and entrepreneur who combines a strong creative approach with the technical mastery of clothing design skills. Anna Ruohonen has experience in long-term, successful co-operation with several major Finnish fashion brands. She has a distinct idiom that has found its shape and maturity over time and been influenced by her years of living in France.
The Kaj Franck Design Prize brings forth the central spirit and principles of designer Kaj Franck's (1911–1989) oeuvre: high-quality, democratic and functional design that solves practical challenges and opens up new opportunities for companies excelling in design. A particular merit is if the rewarded designer brings beauty and joy to everyday life and enhances the quality of life. The prize sum is €10,000. The Kaj Franck Design Prize was established in 1992 by Design Forum Finland and it is funded by the Finnish Fair Foundation.
Photo: Liisa Valonen
Kaj Frank Design Prize exhibition
Design Museum Helsinki 9.11.2017-5.1.2018